Cahoots Lab 2022
Description
Cahoots Lab is a chance for alumni from You Are Here's  Cahoots residency program to share their work with Canberra's creative community. You are invited to be part of their creative process!
Cahoots Lab is for everyone who loves art, anyone who's ever thought they might like art, and especially for people who love to talk about art. It's a chance for us to show off the incredible work made by Cahoots residents, and a space where they can test their art and hear what an audience thinks about it.
Saturday 25th June, 12:30pm to 5:30pm
Belconnen Arts Centre, 118 Emu Bank Belconnen, ACT.
Each artist's work will be in a unique phase of development, from raw concepts, through test versions, to fully realised works. There will be opportunities to share your thoughts, feelings, ideas and feedback through conversations with the artists and You Are Here producers, as well as a space purposefully set up for reflecting on the work you see at Cahoots Lab.
What to expect
With a bunch of experimental work on display, you can wander through an exhibition of new paintings, animations, poetry and short film in the gallery, join in engaging conversations, participate in a live script reading, delve into soundscapes, noise and music, or just come and hang out. The heating will be on and there will be snacks. You Are Here's producers will be around all day, and we'd love to meet you! Plus, while you're there for Cahoots Lab, you can check out the other divine exhibitions all throughout Belco Arts Centre.
Check out the full program below! You can register to attend any sessions you're especially keen on, or just show up on the day and see what's happening.
Cahoots Lab takes place on unceded land of the Ngunnawal people. Always was, always will be. We recognise the Ngambri and Ngarigu people who traded on, travelled through and connected with this land, and continue to do so.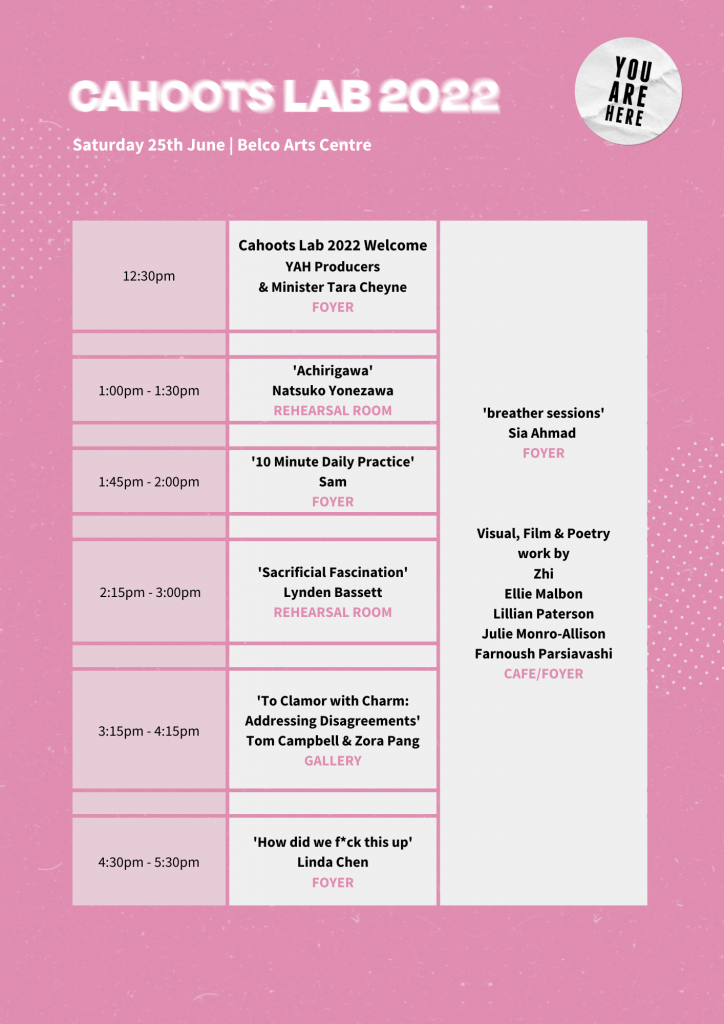 Registration